Our Country's Flag

Our Country's Veterans
Want to share news about these great educational tools with others? We welcome mentions and links to the FlagComics.com site. Simply copy any of the banner ads below and add to your site. You can link the ad to the main page of the site at: http://flagcomics.com

Community groups, veterans groups, political organizations, school districts, local and state boards of education, citizenship groups, patriotic organizations, scouting groups, sports teams, and anyone interested in sharing this important information are all welcome to link.

Every purchase of these teaching tools helps support Americanism education programs for young people. Thank you for your support and for sharing the word about these tools and this site!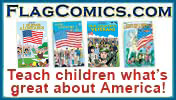 Copyright ©2023 Custom Comic Services